Action Camp isn't a Schwarzenegger movie, but a doom pop duo. Marketing wise, they are one of the most polished bands Pittsburgh has to offer. From precisely polished videos to media kits that tell meaningful stories. I didn't understand why they weren't bigger… That is, until they actually kicked me in the face.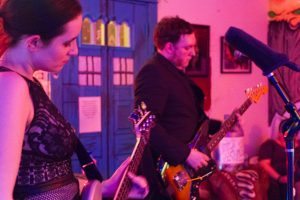 It was the fourth event of the day. I biked to Pittsburgh Art House just in time to catch Action Camp. Barely anyone showed, the lighting was awful, and the beer was dry. That only fueled my determination to catch a good image. My camera was the acrobat, and the angles its rope. I hoped that my performance would pay off.
After the Converse hit the effects pedals, they attacked me. Bengt Alexsander had kicked me in the face exclaiming, "Fuck off, it's just a house show." Did he really just do that? I deflected the second attack. Yep. Bengt then took to the mic and demanded I be removed from the house for taking too many pictures.
Did he really just do that? I deflected the second attack. Yep.
Of course, I wasn't. Of course, Bengt had a bad day. And of course Action Camp got a much different article. That's why it's never just a house show.
As a band you're always on stage. You never know how far a performance will go online. Photos, video, and audio open the door for the world to discover a living room of dreams. Where friends share chords, notes, and tones.
Regardless, here's the photos of Action Camp.