In Pittsburgh, Bridge Crosser is an insult. That is unless you're a Food Truck. These vagabond chefs behind the roaming kitchens bring herbs and spices from Pittsburgh's silk road – the blue belt. The transient tastes and smells have become how some of us tell time during quarantine. Wednesdays Kimchi is in the air. Sundays fresh strip district greens. Now, that second winter is over it's an excellent time discover milestone meals.
I've been in the back of many food trucks hitchhiking from one part of town to another. I've had delights on menu, off menu, and secret menus. Out of the dozens of food trucks out there, here is a list of the best Pittsburgh Food Trucks you can experience in 2021.
Franktuary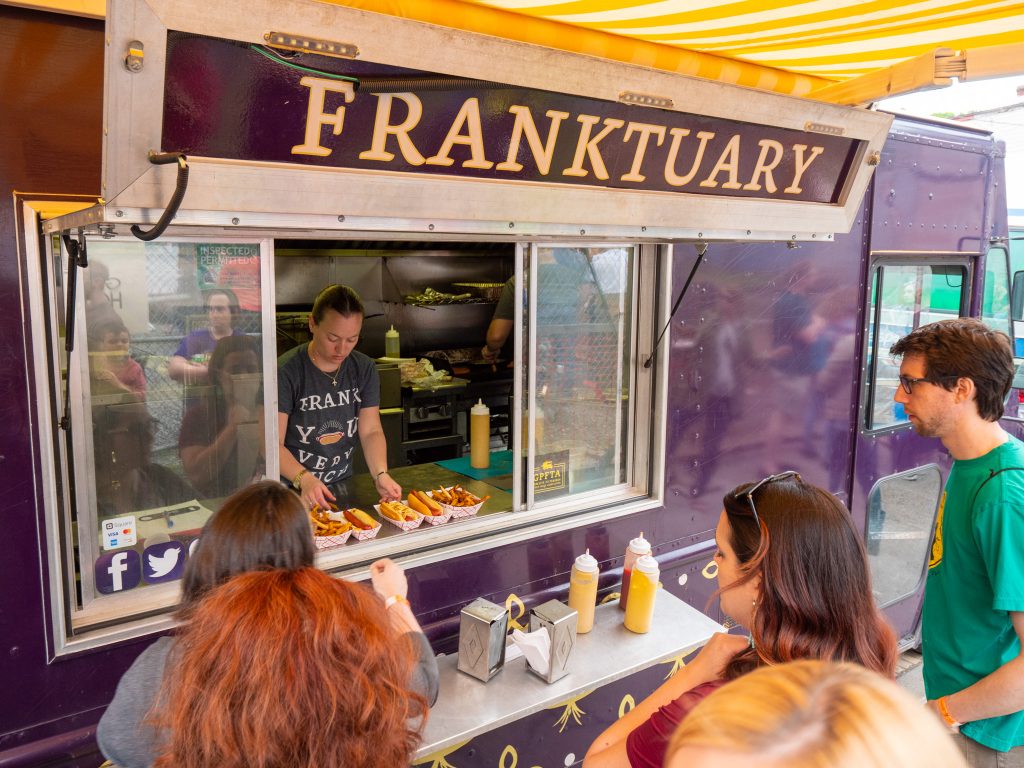 Franktuary is one of the leaders of Pittsburgh's food renaissance. It all started in a church basement and a hot dog suit. Known back then as Hot Dogma, the brand died and resurrected three days later as the Frankuary, the restaurant we all know and love today. High quality and vegetarian friendly too. I know, I know. There is a secret guilt we all share eating hot dogs at a sit down restaurant. But, being served fancy franks from a food truck makes the guilty pleasure socially acceptable.
Blue Sparrow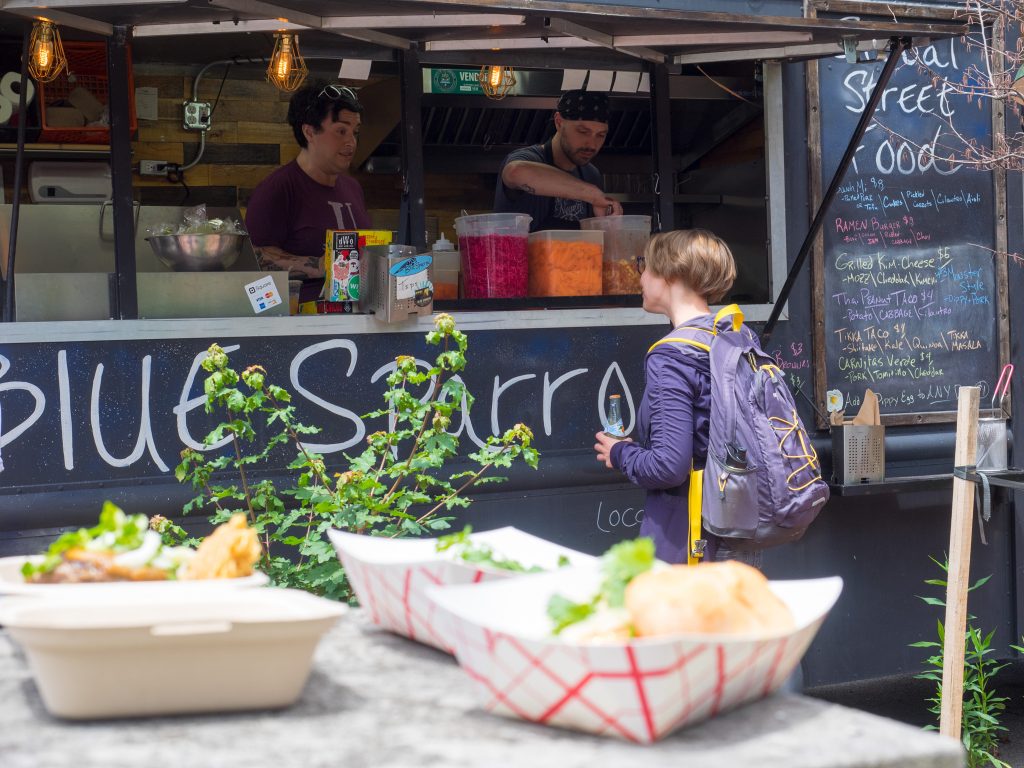 Blue Sparrow is all the the things you love about street food without having to travel to find it. They're chefs who take do-it-yourself culture to an art as they make things from scratch. Blue Sparrow is the best food truck experience for those looking to escape classes or spreadsheets. Their Bibimbap Korean Rice bow is a great place to start. If you make it to the weekend, they have a special Pizza menu they serve in Lawlessville Lawrenceville. Think Japanese Pork Belly, Korean BBQ, and Nori on a Pizza.
Mac & Gold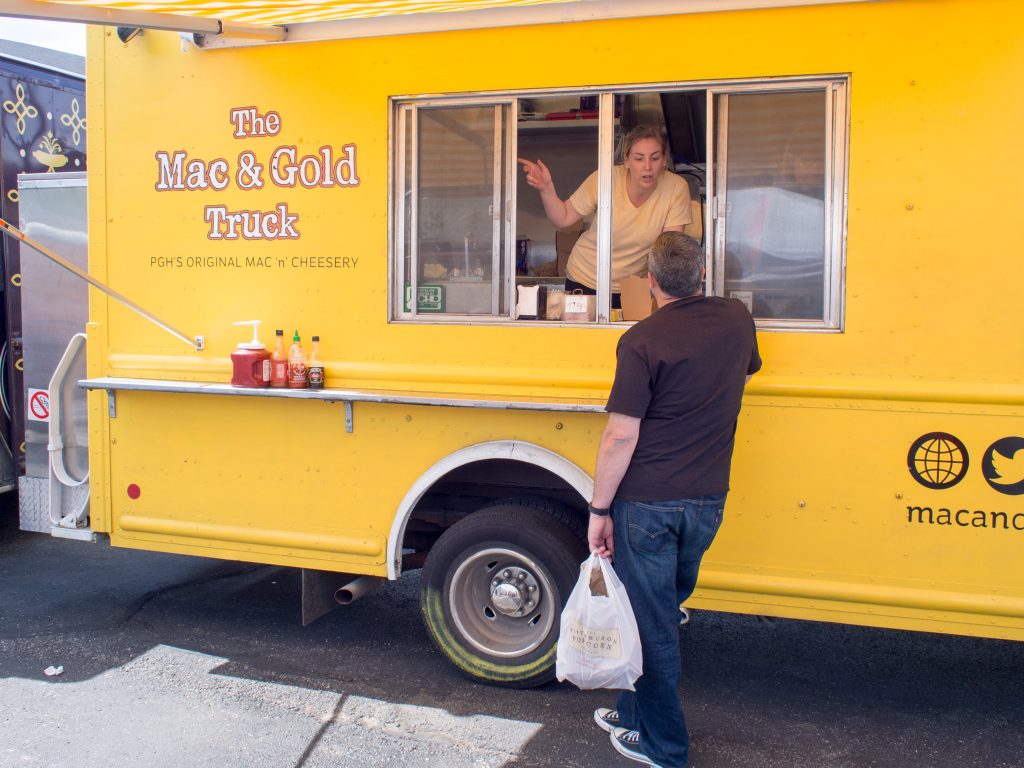 Mac & Gold is the most liked food truck in Pittsburgh. It's hard to find anyone who hates it. Their macaroni swims in cheesy. Their toppings are poured on like compliments on a dating app. They range from basic Mac and Cheese to the fancy Lobster and Crab on top. Either or is less than twenty dollars. The truck is currently being repaired, but should be back on the the road soon.
Burgh Bites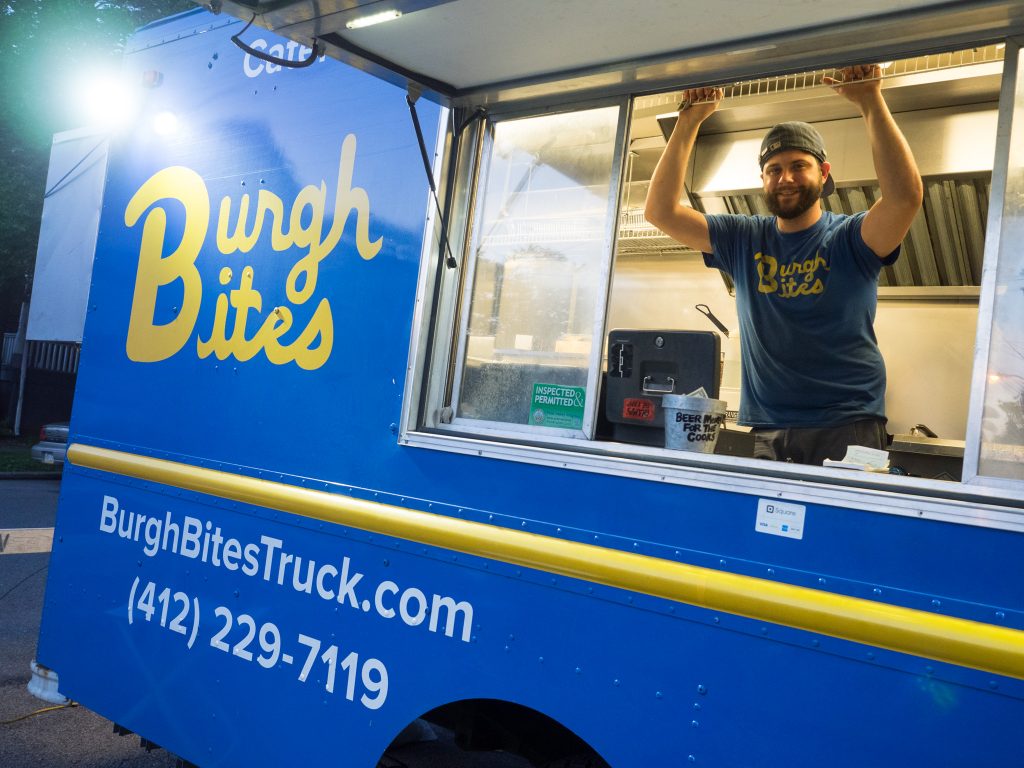 Burgh Bites offers a huge variety of sandwiches and dogs with nothing on the menu over $10. You won't find anything too extravagant, but many recognizable sandwiches done well. The Kickin' Cuban Sandwich is their pride and joy and an excellent first choice. Burgh Bites is also one of the few trucks with a transparent pricing for catering. Just in case you need to throw a last minute party.
PGH Crepes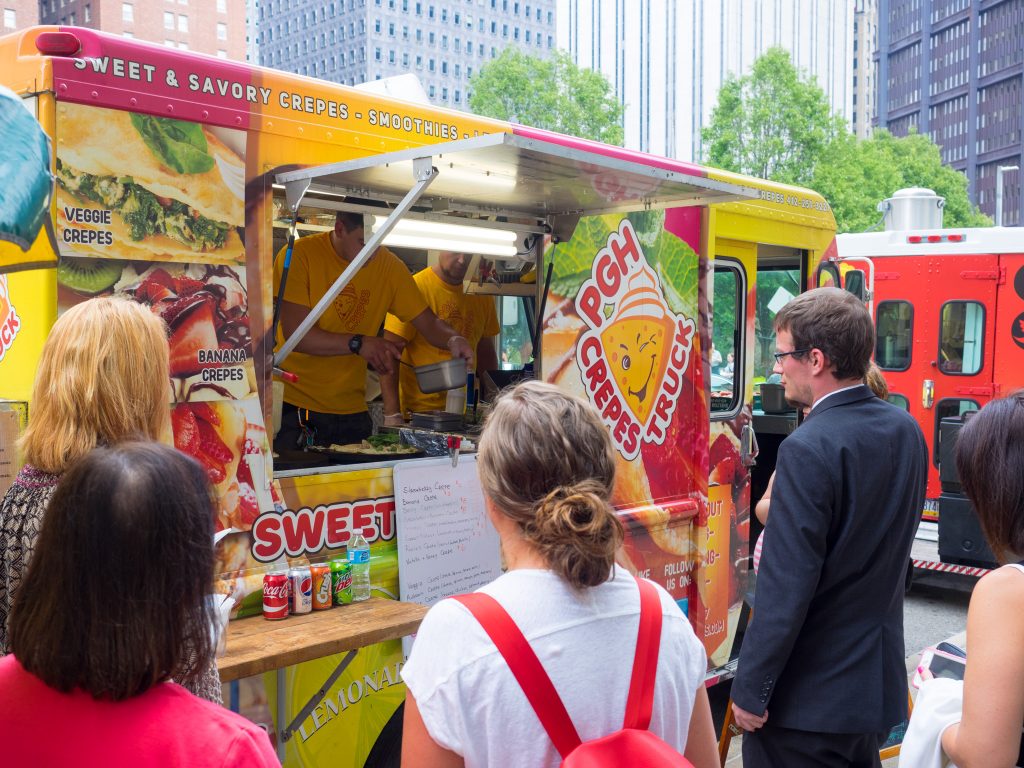 PGH Crepe Truck serves a portal to a place where everything in life is okay. Their Nutella Banana Strawberry Crepe sends a soothing calm that grants you composure to dry your tears and enjoy how colorful life is. Okay… I just went through a break up. Crepes really snapped me out of it. Ahem… Aside from the great food, the PGH Crepe Truck is one of the fastest in town. If you hate long lines, queue up with this truck at the local food truck round up. They're the fastest crepe slingers in Western Pennsylvania.
Pittsburgh Taco Truck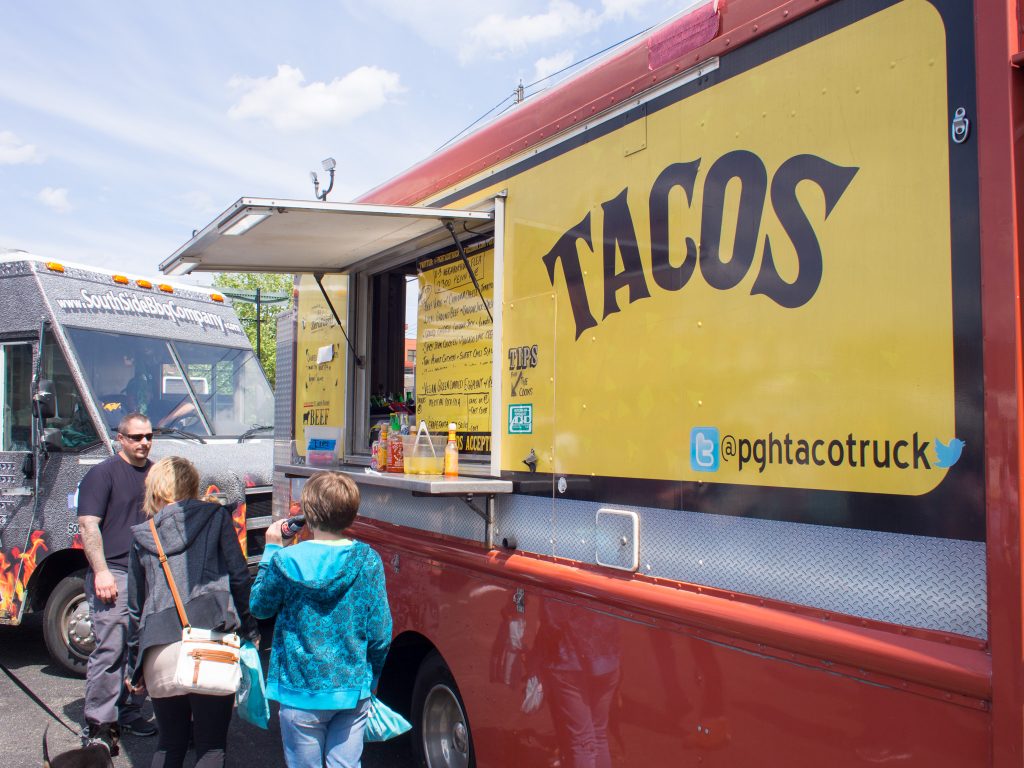 The Pittsburgh Taco Truck is the original gangster of the food truck revolution. They were the force building helping change the laws to allow for the entrepreneurial scene we can appreciate today. Not only are they a cornerstone in the community, they're also a pillar for a solid snack. When it comes to beef, it's local. They get it from Clarion Farms north of the city. Cattle actually cared for – not from some packaging facility. John-Scott, actually raises the cattle on his family farm. It's a kind of caring and freshness you don't see often.
Pittsburgh Pierogi Truck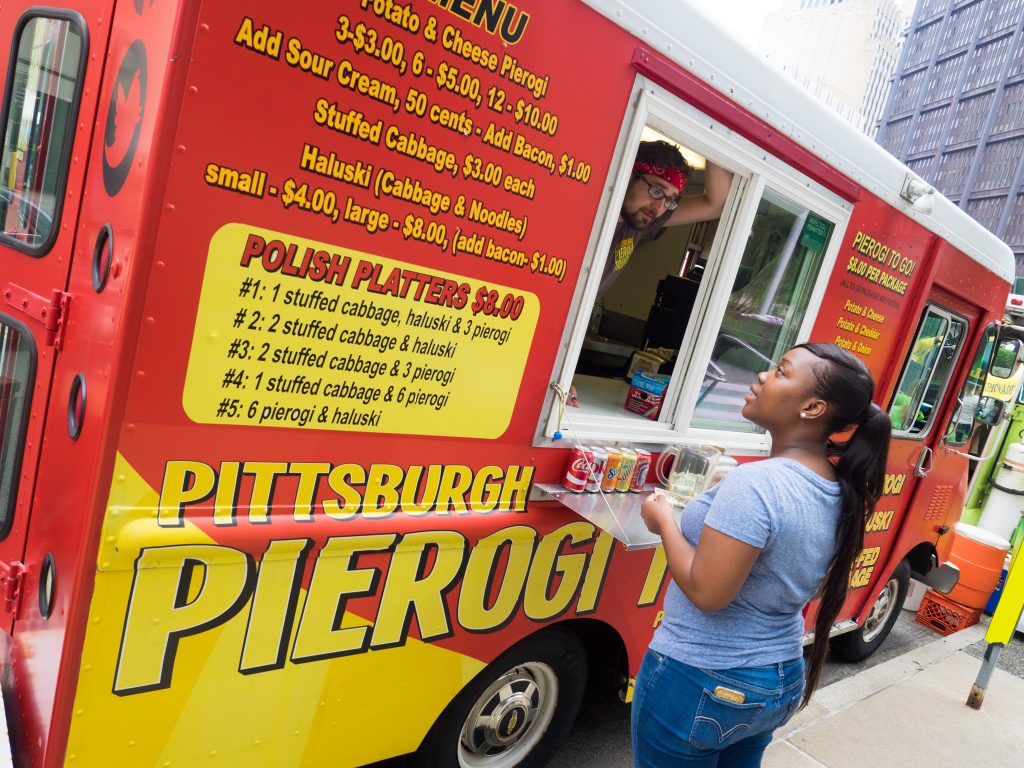 The Pierogi Truck is as straight forward as they come. They drive around town slinging Eastern European dishes like, well, pierogis. Inspired by the Pittsburgh tradition of church made pierogis pinched by grandmothers, the truck hopes to rekindle some of that nostalgic food outside of fundraiser season. Luckily, they aren't parked in Polish Hill. However, they're the truck the travels the farthest outside of city limits. Just double check their schedule before you seek them out.
Haskel's Delicatessen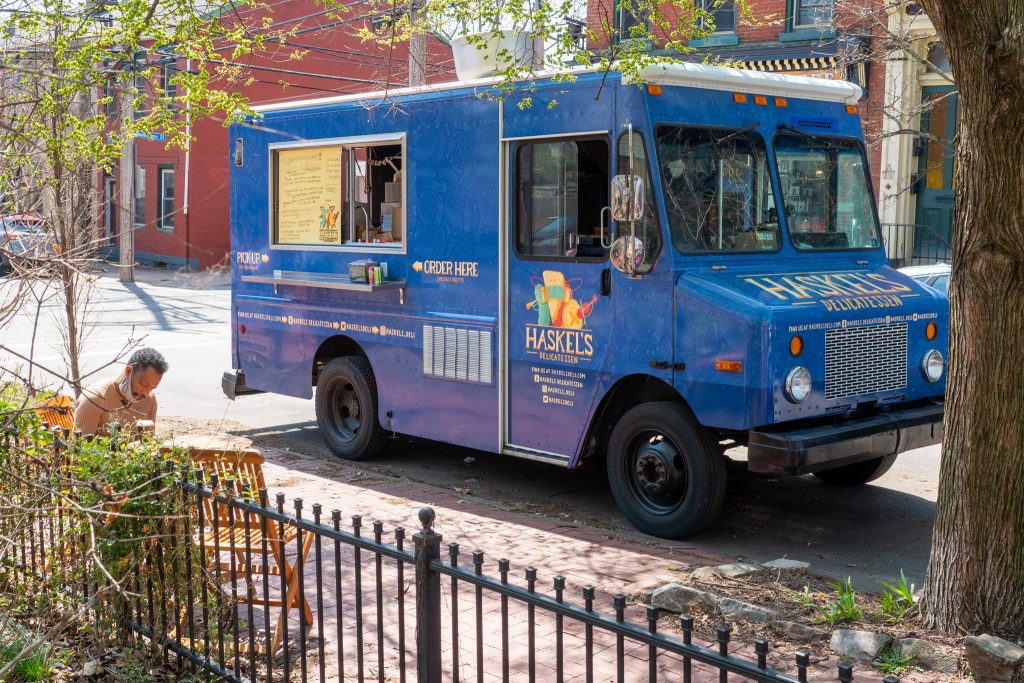 Haskel's Delicatessen is a new comer with classic Jewish recipes: potato knishes, schnitzel, and even chocolate babka. The real secret is for a $1 more, they upgrade their pastrami sandwich to one of the best Reubens in Pittsburgh. We're not talking about dry, textbook definition of a Reuben sandwich, but the kind that opens up the sky on a cloudy day and sun warms it up on your plate kind of Reuben*. (As with miracle sandwiches, your mileage may vary.) If you've tragically decided meet isn't you you, then their Vegan Seitan is the proper choice.
Gaucho Asado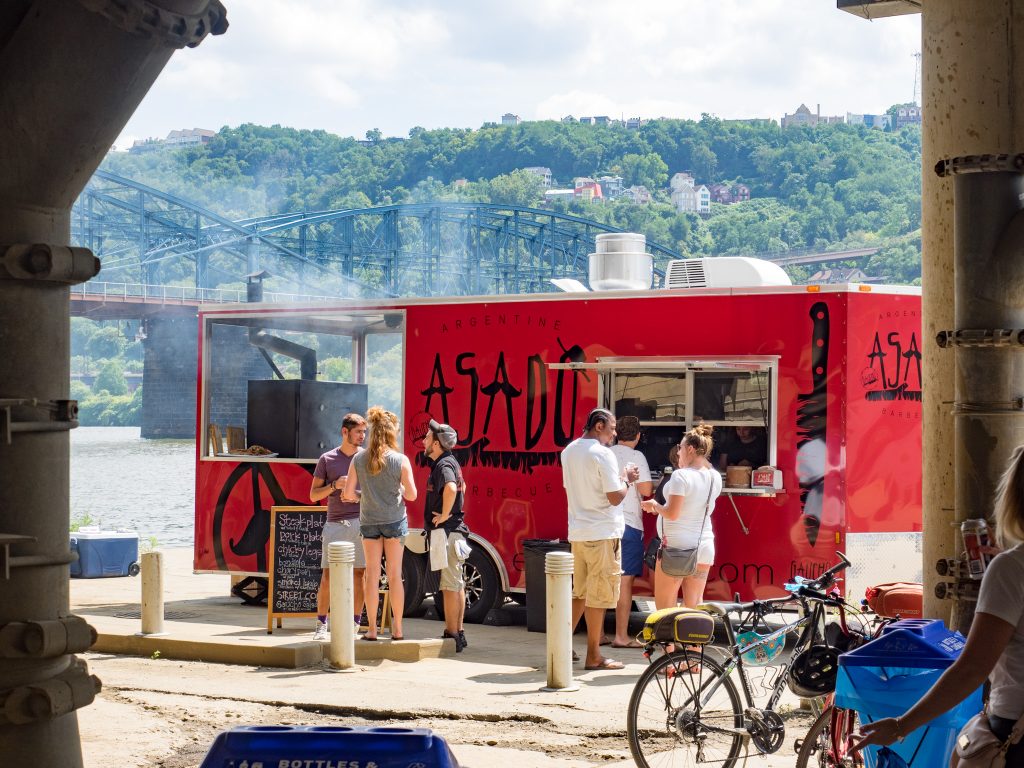 There are good days, and there are bad days. On the bad days I save enough money in that emergency nook in my wallet for a real meal at Gaucho. Gaucho Asado is the food truck version of the Argentinian restaurant. While Gaucho has focused on their new downtown location, their comes out for special events. If you're able to find this mythical truck out in the wild, you'll be treated to the holy trinity of options: beef, chicken, and pork.
Gus and Yiayias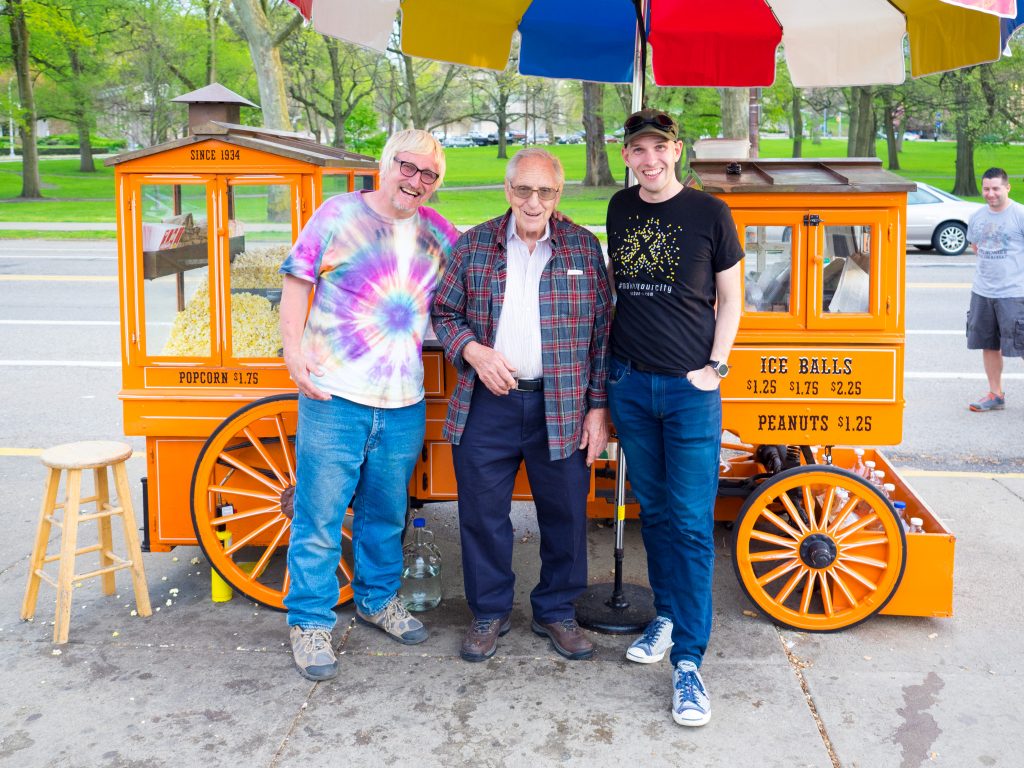 Since your dad was a lad, Gus and Yiayia's has been essential to a perfect Pittsburgh summer. Each summer morning Gus pulls up to Allegheny Commons West with his saffron orange food cart. Throughout the day, he carefully unwraps ice blocks as clear as Mister Rogers conscience. Then using tongs and a grip a steelworker would be proud of, places the ice gently on the cart. Lastly, the song of ice scraped is followed by the color and flavor mixed with it in a cup.