In the 1930's the U.S. Farm Security Administration sent photographer Arthur Rothstein to document Pittsburgh during the Great Depression. His 1938 visit was at a pivotal time in Pittsburgh history towards the end of the Depression and before World War II. Steel dominates the story. Rothstein would eventually become the Director of Photography for Look Magazine where young photographer Stanley Kubrick apprenticed at the same time.
Steel Worker Looks Beyond the Mills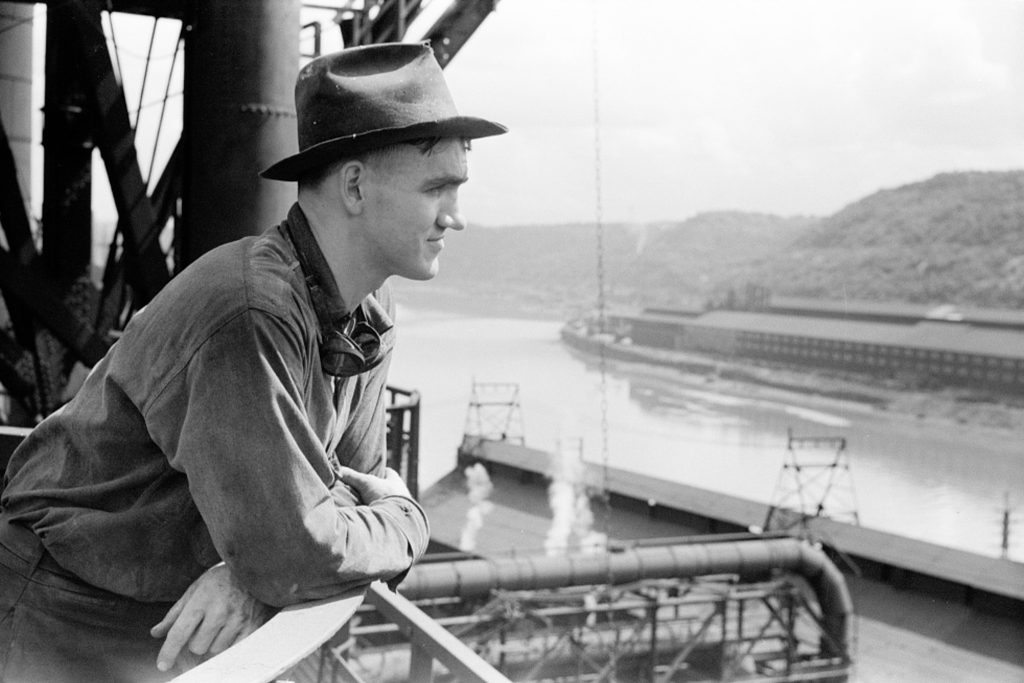 Industry is sandwiched between the water and trees.  A steel worker is enjoying a peaceful break overlooking the river.
Pouring a Test Mold at the Blast Furnace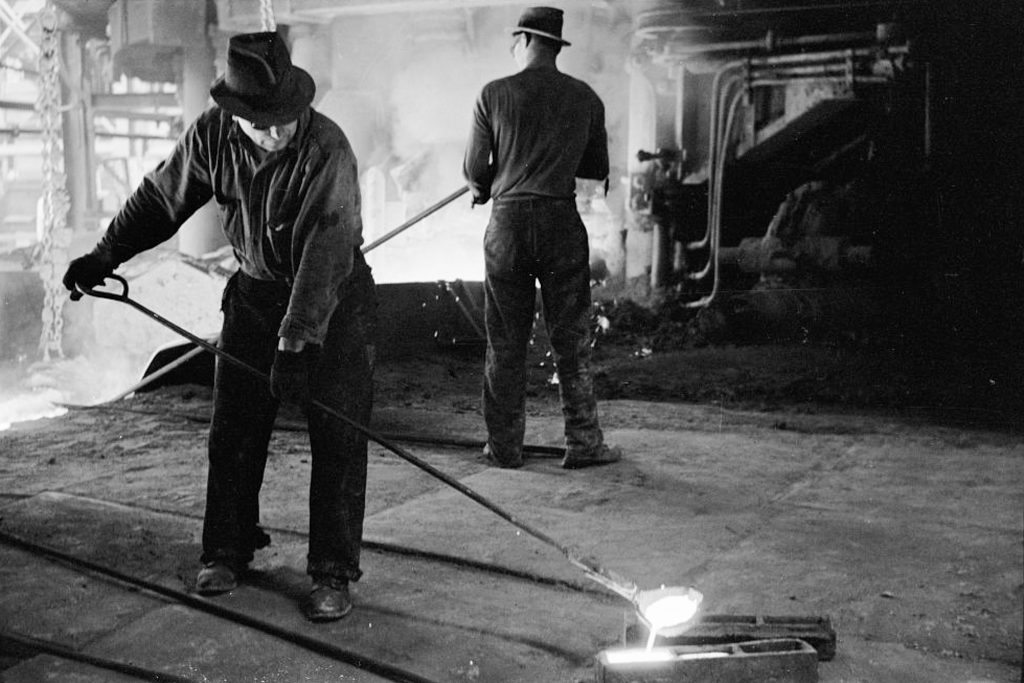 A worker is pouring hot steel into a ingot mold as the blast furnace is tapped in the background. The process of tapping a furnace, as seen in this video, is quite hectic. Rothstein had to keep his cool to grab this shot.
Galvanized Steel Rolling On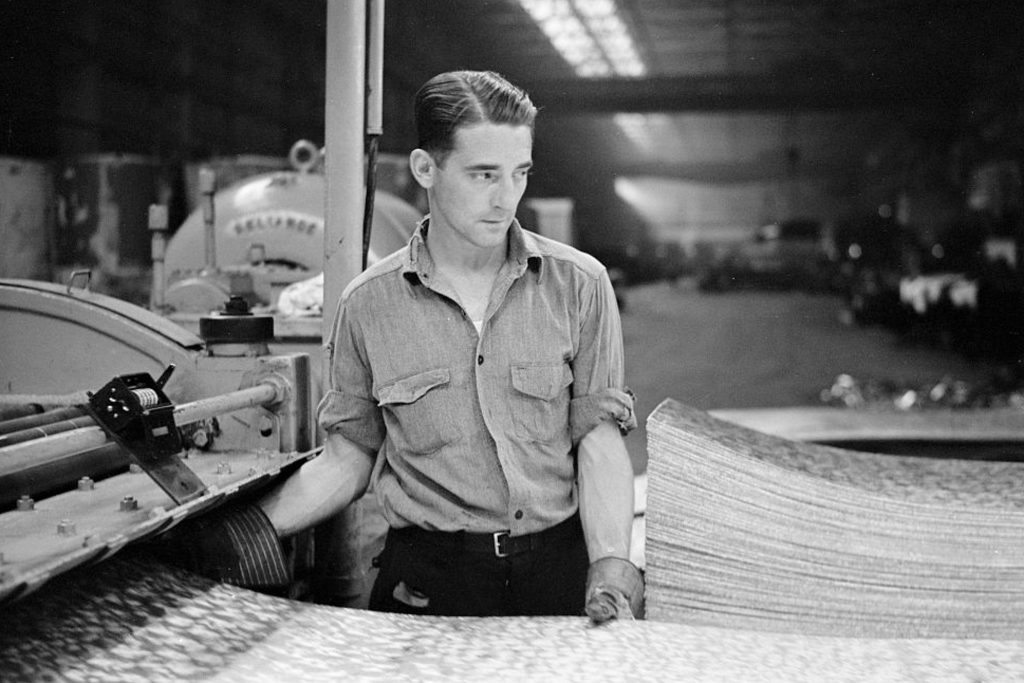 A worker removes plates of galvanized steel from a roller. The process coats steel with zinc preventing rust. Workers heating or welding galvanized steel had to be careful. Fumes from Zinc Oxide causes metal fume fever resulting in chills, fatigue, chest pain, and cough. Imagine the flu, but only nastier.
Cutting Sheet Metal to Size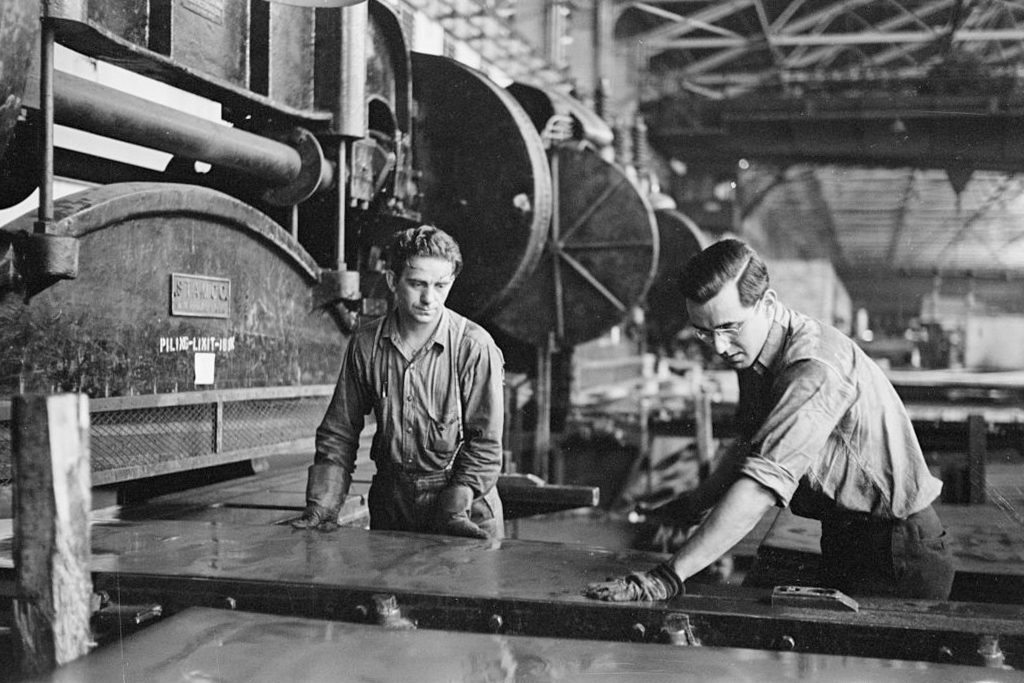 The rows of roof support and machines give a sense of scale. This was one of the many factories that lined the rivers in Pittsburgh and one of the many machines that were tasked with fabrication of American industry.
Cars Parked Along the Allegheny River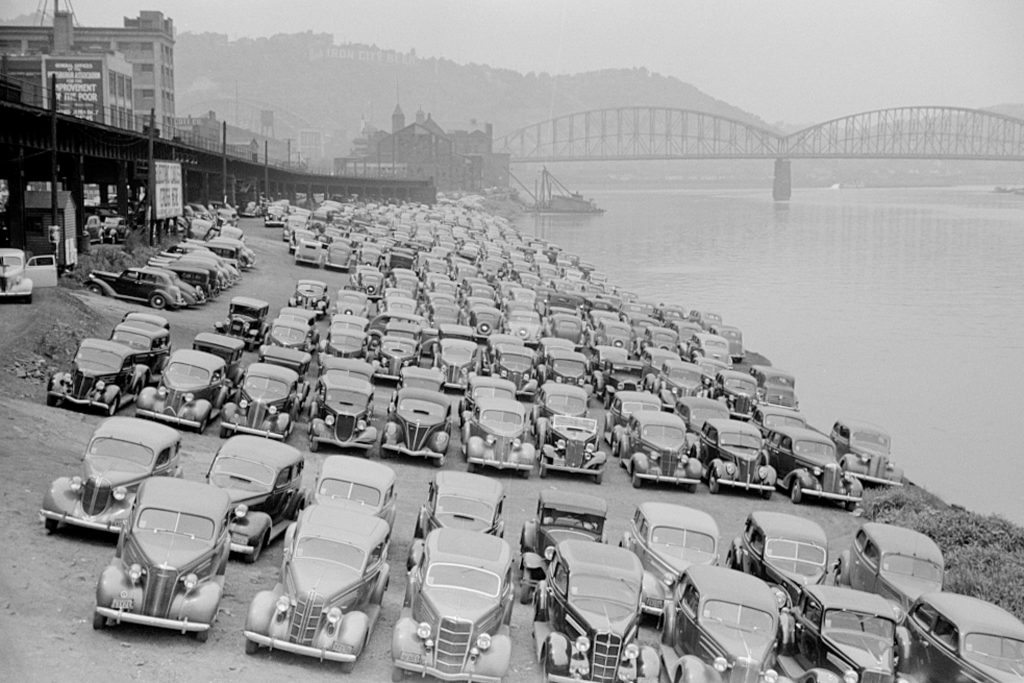 A year after these photos, The Grapes of Wrath was published. The next year it was made into a movie. Russia imported the movie hoping it would spark anti-capitalist sentiment, but the Russian audiences were stunned: Even the poorest American could afford a car.
"The Hill" a Pittsburgh Slum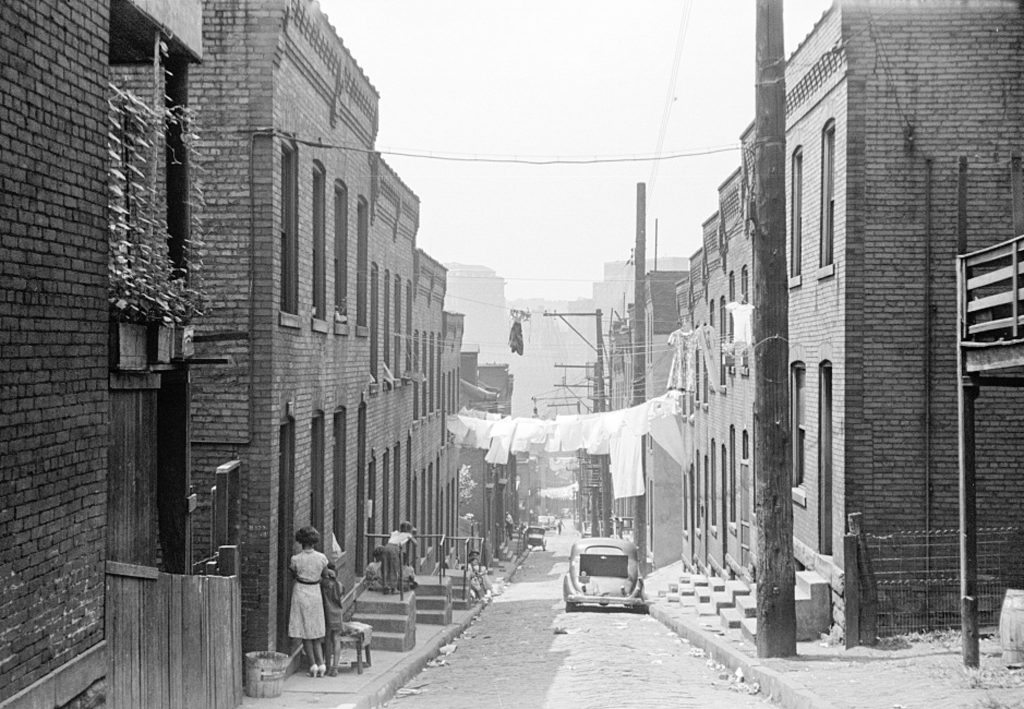 Life in the slum; Photo of "The Hill" district. Yet through the 1930's-1950's the Hill District was one of the most prosperous black communities in America.
Wife of a Steel Worker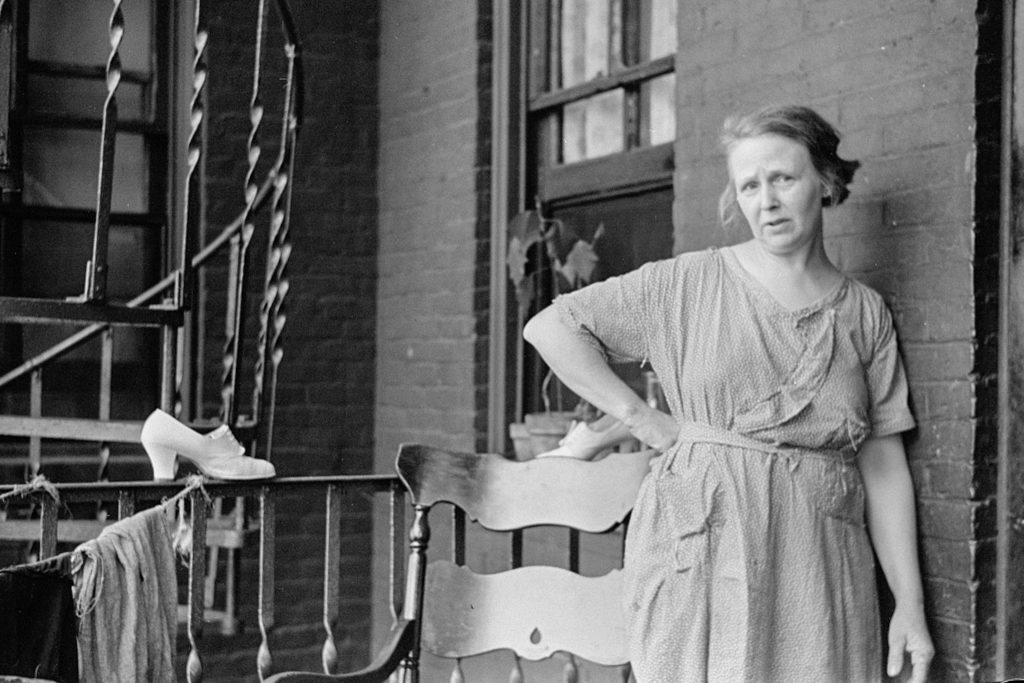 Not much context is given, but in the other photos in the collection show the neighborhood as, "slums".
Son of a Steel Worker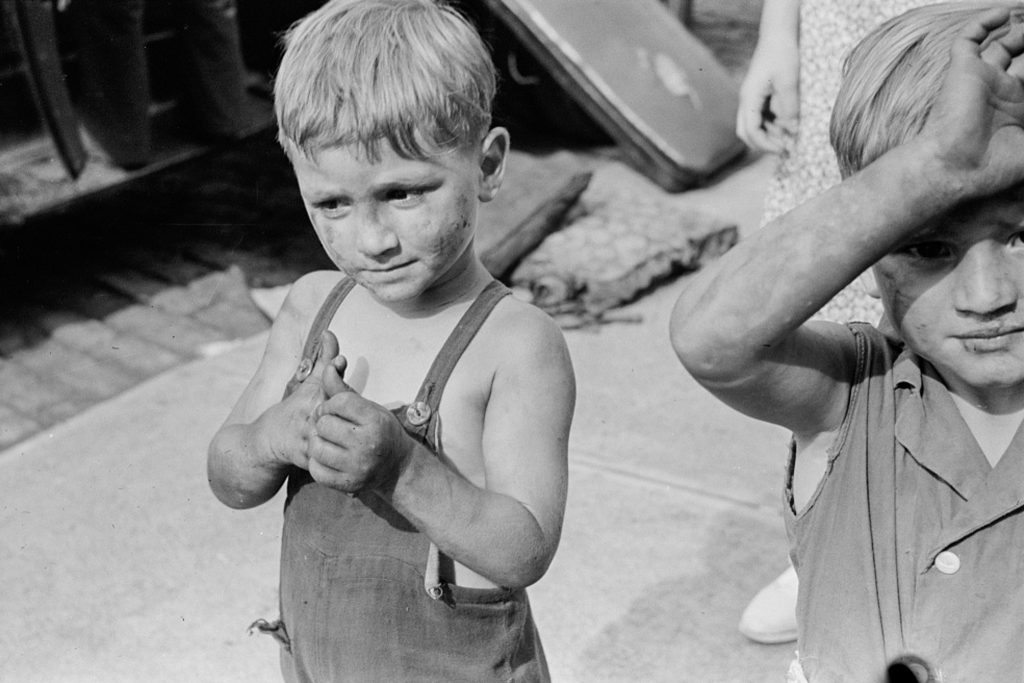 Next to his mother, the son of a steel worker in overalls.
Iron City is "The Talk of the Town"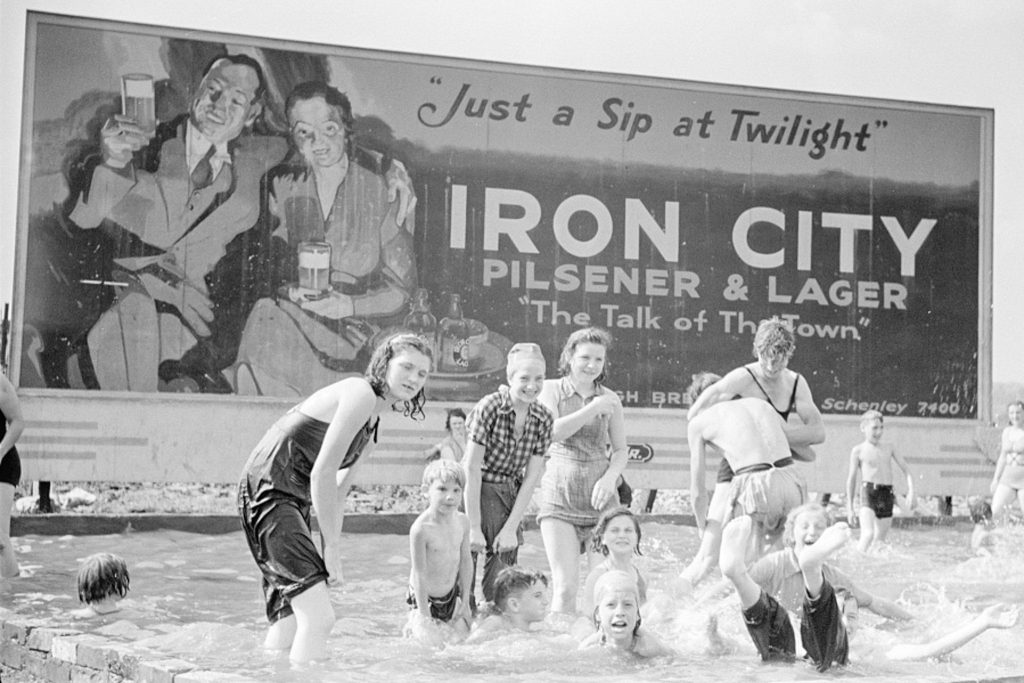 Iron City Pilsener & Lager, "The Talk of the Town" Billboard. And from the other side we can see…
Handmade Brick Swimming Pool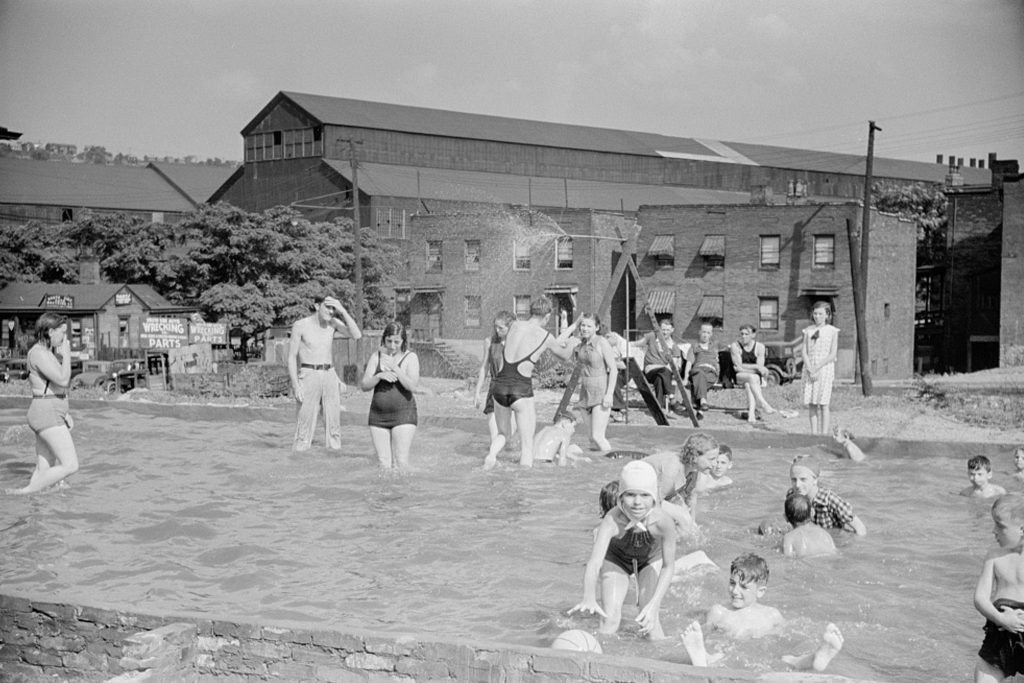 Steel workers had painstakingly laid brick to build the sturdy pool for their kids. A water hose runs from one of the laborer's houses to fill it. All of this is at the foot of another factory that dotted the three rivers landscape.