Think of first time you had a cup of coffee. The caffeinated bliss. Let's get back to that.
American baristas are pushing the artisan aspect of coffee. They now treat it as a craft rather than commodity. This is called the third wave of coffee. Coincidentally this is happening the same time as Pittsburgh's Third Renaissance. Dozens of new coffee shops have sprinkled the landscape like fresh snow. Thus it was time to go out and rediscover the best coffee shops in Pittsburgh.
This isn't one of those stock photography lists. We clocked over 80 hours in 20 coffee shops drinking, chatting, and working. We spoke to owners and patrons a like. Every shop is different. This is a guide to find the right one for you.
Beehive Coffee Shop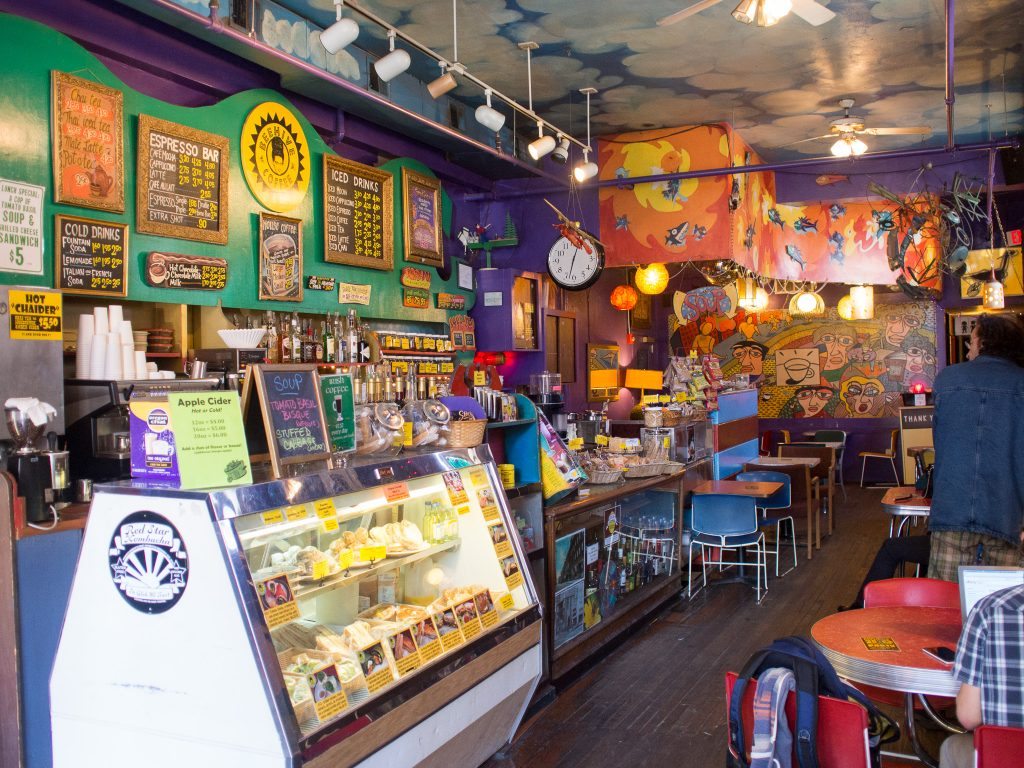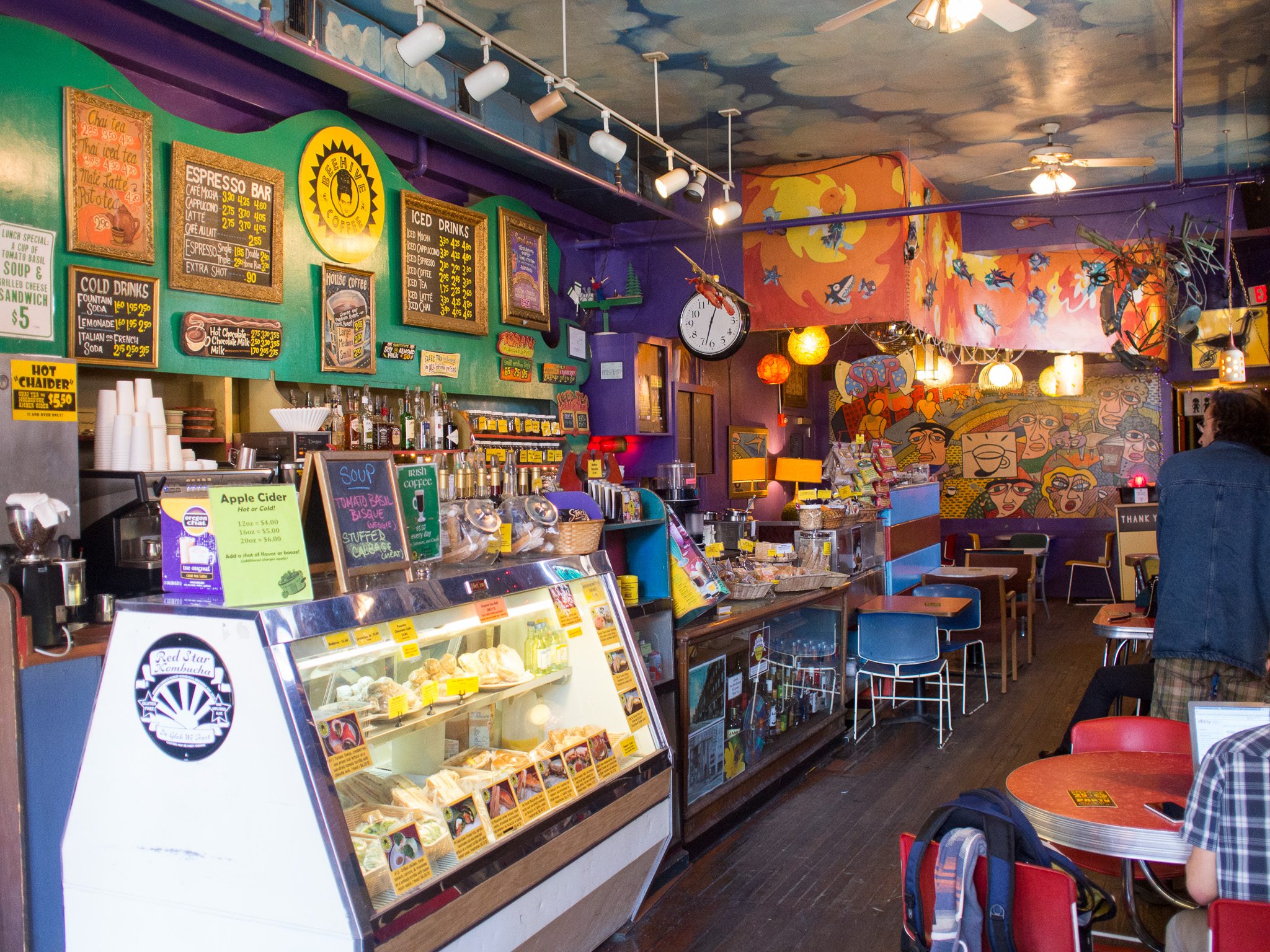 The Beehive's coffee is the standard in which to judge all others. For over twenty-five years, the Beehive Coffee House (RIP Oakland Beehive) has been a home for wayward artists, angst ridden teens, and digital nomads. Say what you will about quality. It has been consistent: an above average spectacle of colors, fascinating characters, and enticing atmosphere.
Big Dog Coffee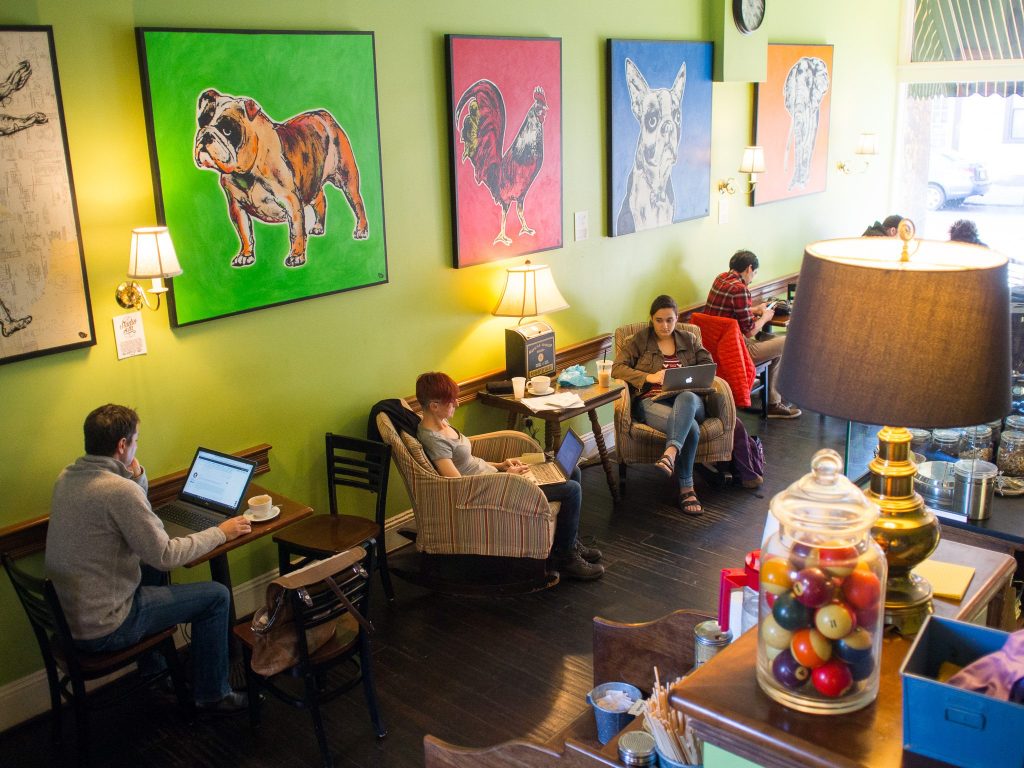 Big Dog Coffee is the place where young professionals go to show off how unique they are with their Macbooks. Secondly, has anyone ever seen a dog there? They have a lot of nods to predecessors like the Beehive. Recently they colorized the interior with artwork by Baron Batch. Don't let comparisons fool you. Their lattes will never let you down. Big Dog is the best caffeine dealer in Pittsburgh to bring your laptop to get shit done.
Arnold's Tea Cafe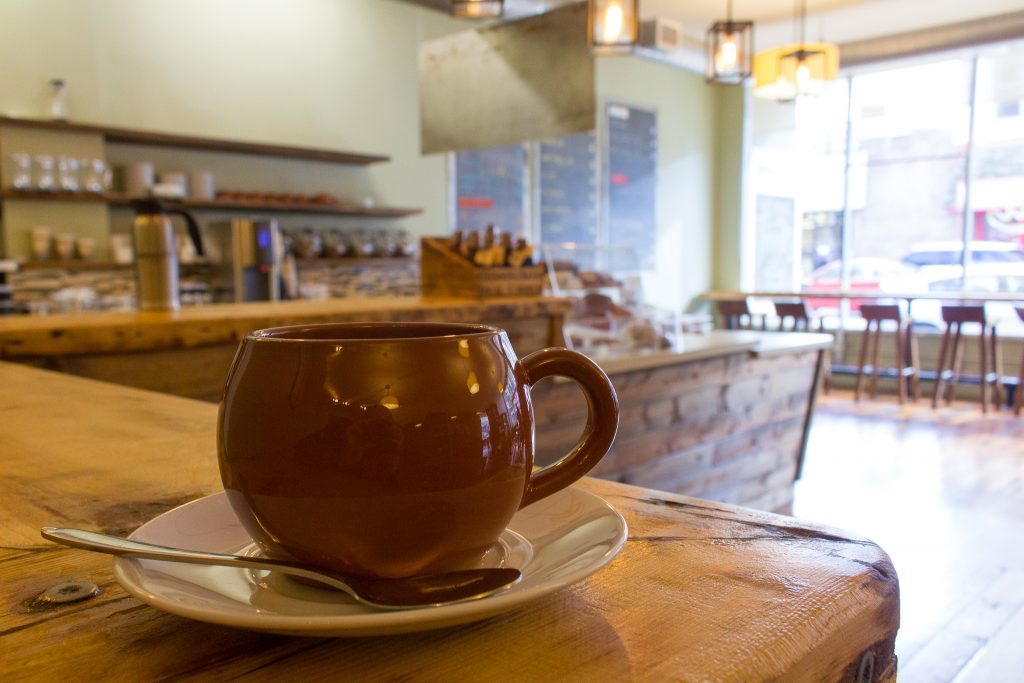 Arnold's Tea, is a North Side newcomer. Don't let the name fool you. Their coffee is Rosie the Riveter strong. The place itself is immaculate. You'd expect nothing less from a retired principal. Verna Arnold spent thirty-five years as an educator. Now she offers a polished coffee house experience for tea. Don't go there to upload your next creative project though. Their WiFi is painfully slow. Their Wifi was upgraded since writing this and is pretty fast. It is the most expensive cup of coffee on the list.
La Prima Espresso Co.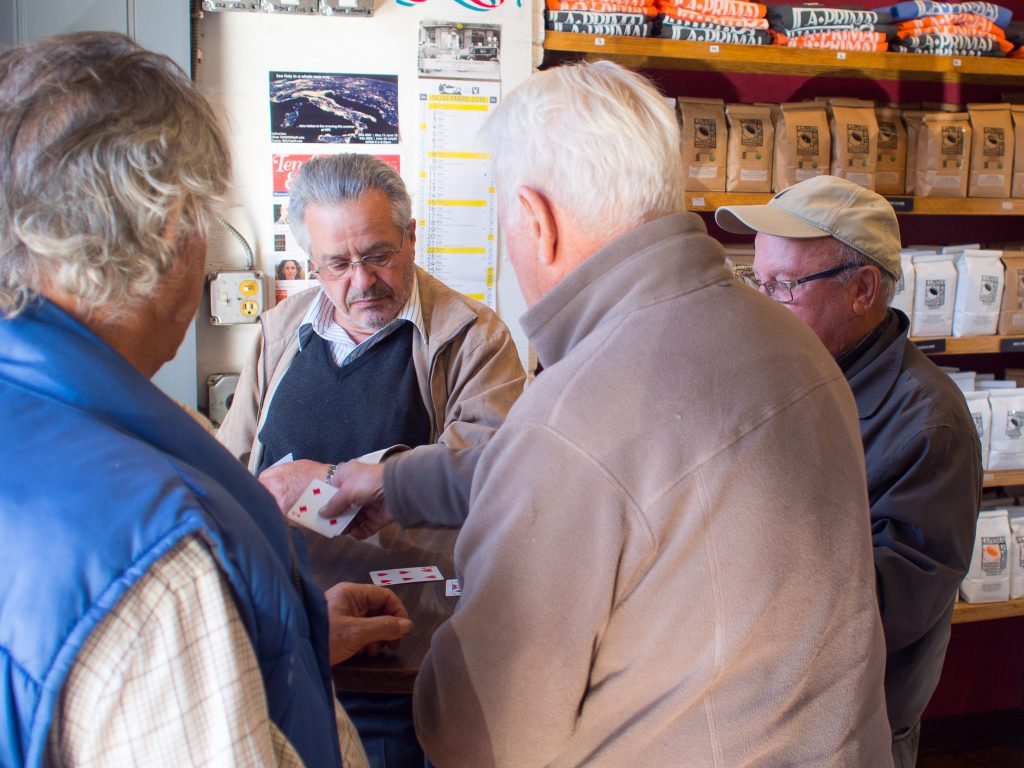 La Prima Espresso Co. is a coffee roaster and equipment wholesaler. Now, here's the twist. They have La Prima in the strip as a public showcase of how to do coffee right. Their roast is as thick as an Italian family. They make the best Cappuccinos in Pittsburgh. Each one is a work of art. The coffee is loud, but once you buy in there's no leaving. Don't bring a laptop. There's not much in the way of inside seating. Third wave coffee? Pfft. They were here before all that.
Zeke's Coffee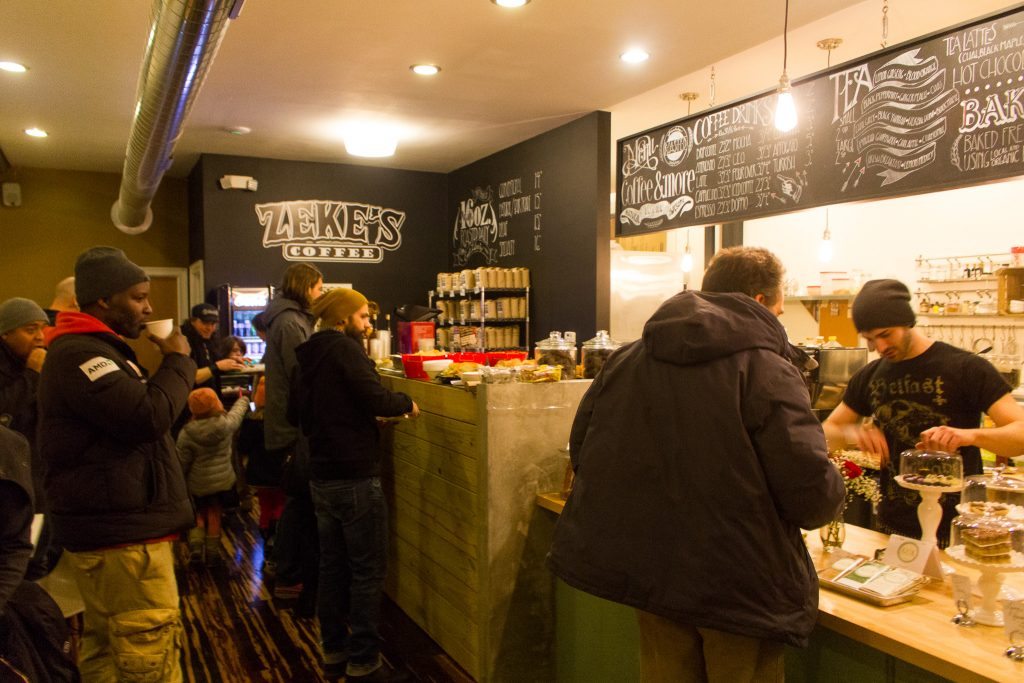 Zeke's Coffee is the little shop that could. The lean startup mentality has paid off in surviving the upheaval in East Liberty. Their take no prisoners' mentality propelled them into every startup space in Pittsburgh. In the last few years we've covered their move, opening, and 5th Year Anniversary. If entrepreneurs are fueled by coffee, then ideas are fueled by Zeke's.
Espresso A Mano
Espresso A Mano employees are the best in town. They love their craft. Local baristas trace their lineage back to the espresso machines there. You can set your watch to the morning rush at Espresso A Mano in Lawrenceville. Don't go there to work though. The space is usually too packed. This is perfect for light conversions or grab-and-go Americanos.
Commonplace Coffee House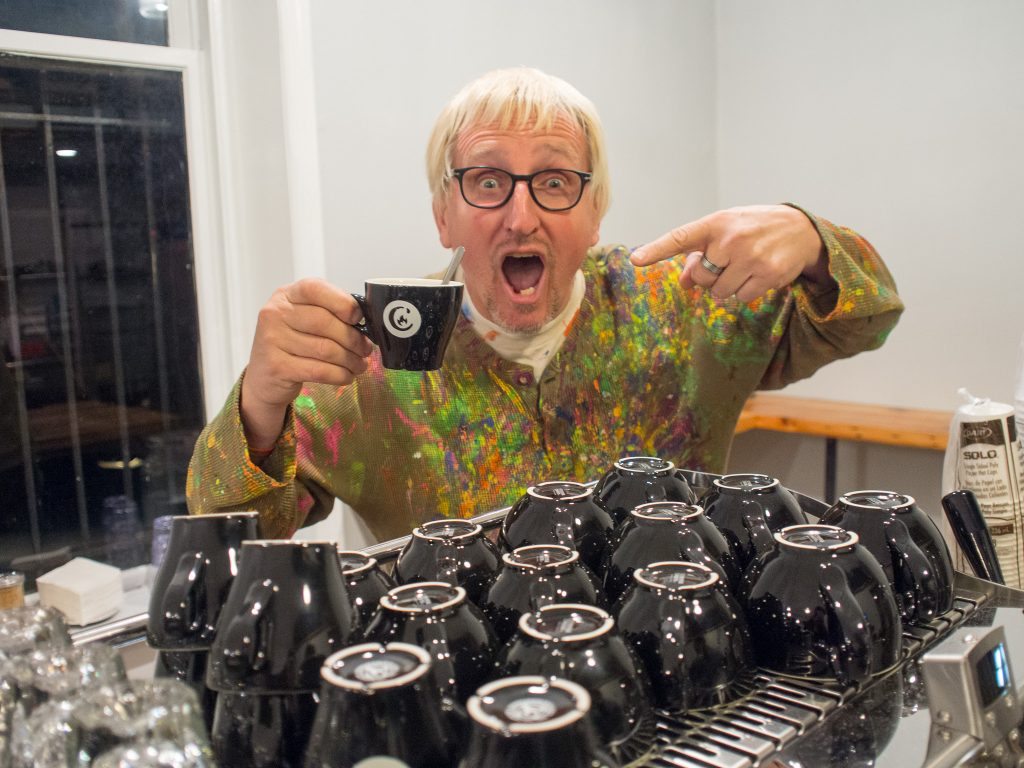 Commonplace Coffee promotes sustainability when it comes to their suppliers. They care about the story behind the bag of beans and the families behind the counter.  After a few visits they'll remember your name. A few visits more and you'll be playing Legos with their kids. They're a no-frills community coffee shop. Their WiFi is fast and the roast itself is just right: the way you want it.
Kickback Pinball Cafe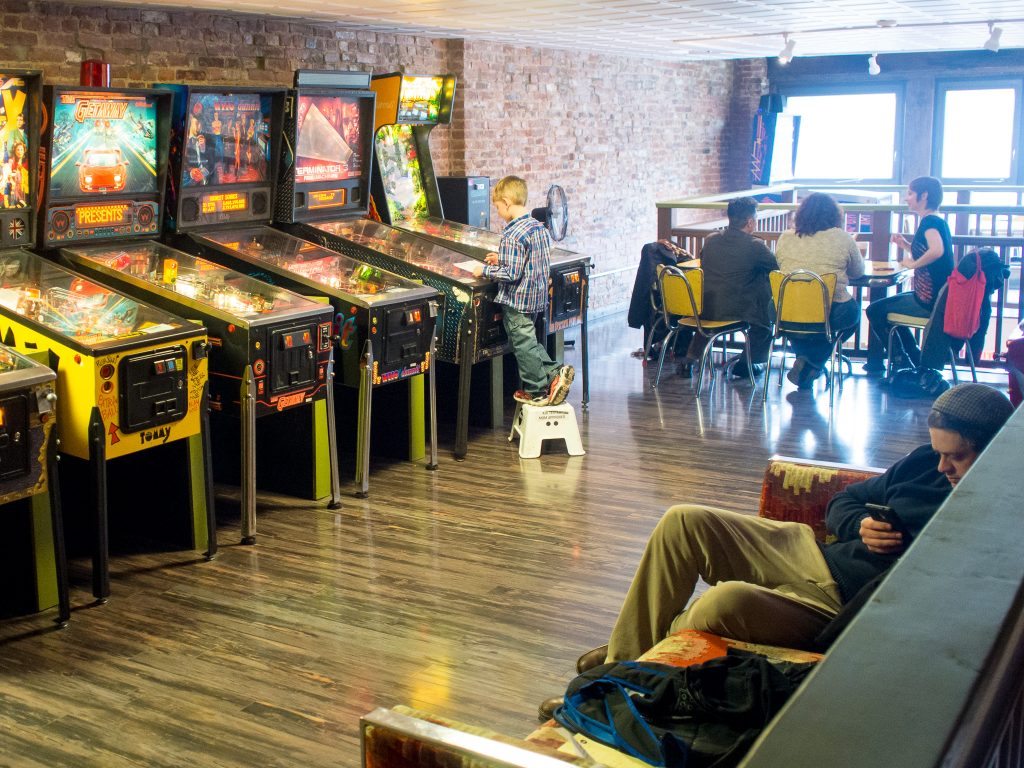 Kick Back Pinball arcade's coffee is the stuff you find at a support group. There's something nostalgic about the brown brew that's sat in the pot for hours on end. Reminds you of the typical 1950's Americana Diner. I digress. You go here for the acceptable coffee and great pinball. They even host a bunch of mini-concerts.
Black Forge Coffee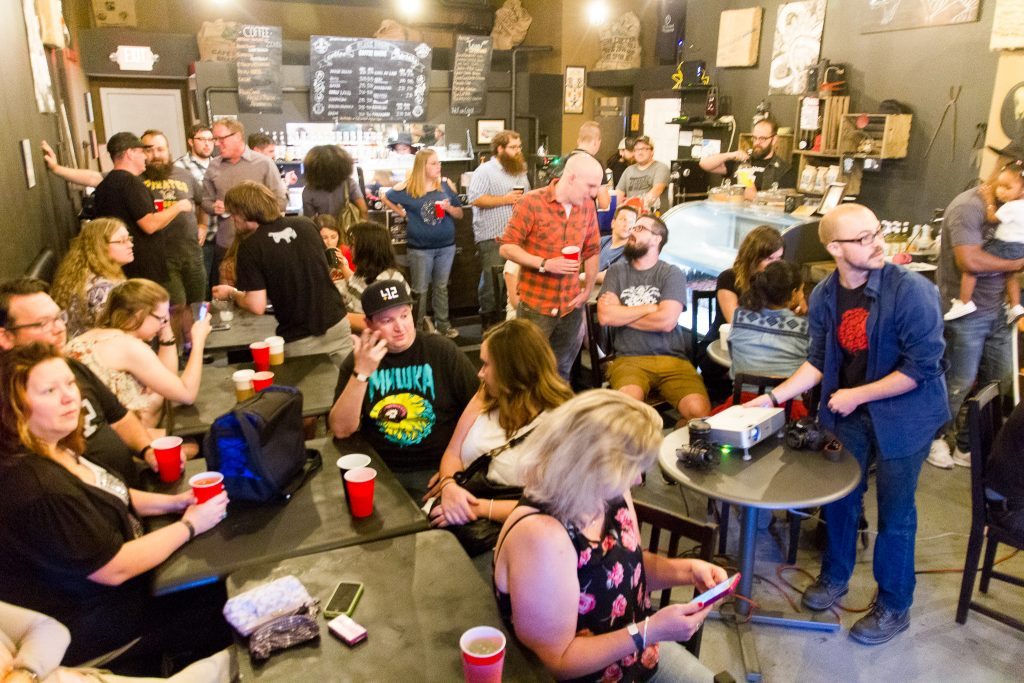 Black Forge Coffee reads like a plot to an 80's movie. A bunch of metal heads start a coffee shop and try to save their town. You can't make that up. That's what they're doing. Along with Epicast Network and Work Hard Pittsburgh, they're trying to revitalize Allentown. The coffee is a little strong for me. Black Forge Coffee brews the blackest coffee on this list. It's darker than Finnish Death Metal. Outside of that, you can catch a variety of events from shows, podcasts, and yoga.
The Worst Coffee Shop – 21st Street Coffee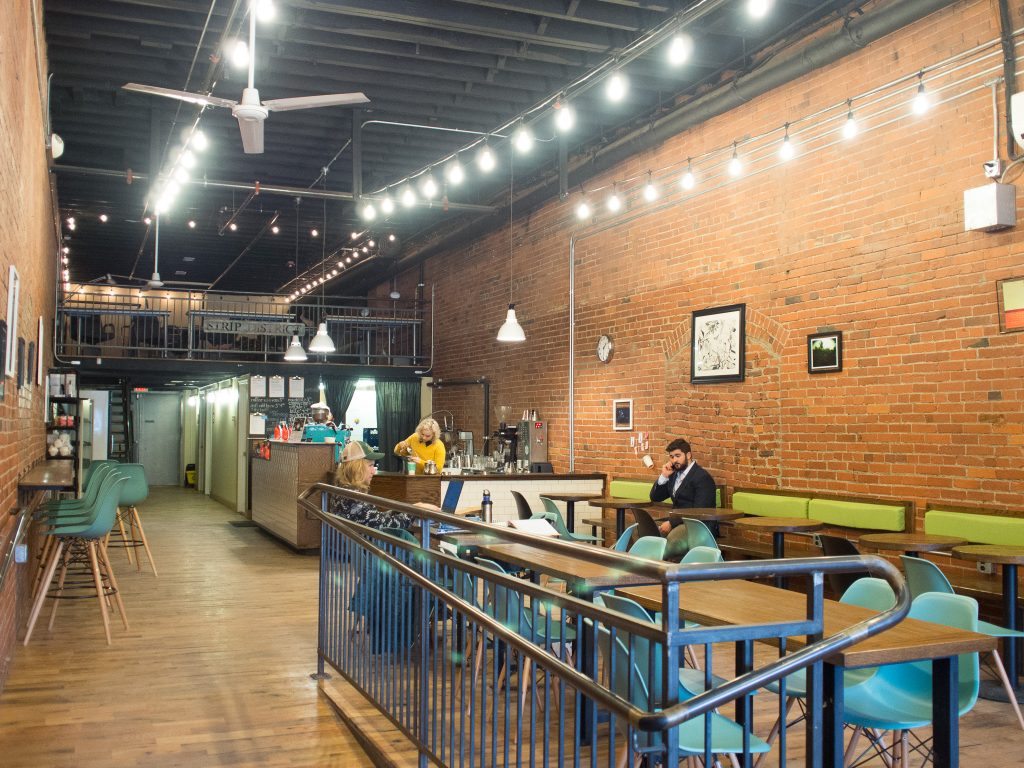 21st Street Coffee in the Strip District is the definition of pretentious. They are expensive and take 8-12 minutes to deliver coffee. Yes, we timed it. God forbid you ask for sugar or cream, you'll get a lecture on ruining their art. This insulting process usually results in a luke-warm cup of joe that is average at best. Beyond that? Seating is mediocre. The space itself is bland.
The entire problem at 21st Street Coffee is it's all about them. No one else. They highlight their superior choice of brand name machinery. Other shops highlight sourcing, stories, and customers. They forget coffee is a shared experience connecting communities. And until they realize that, you might want to avoid the place.
Up and Coming – Constellation Coffee
Constellation Coffee deserves an honorable mention. The small shop has developed a solid reputation in a short amount of time. There are no bells and whistles, just straight up caffeine. If they keep it up, they'll be one of the best coffee shops in Pittsburgh this time next year.